Bliss Point Media OTT/ Linear
Bliss Point OTT - Hulu
BPM requires the Hulu pixel to be placed separately.
Bliss Point Media OTT
Enable the integration within the UI: Go to Settings -> Integrations -> Add Integration
Below is a screenshot of Bliss Point within the integrations page. Click the Enable button under their integration to get started: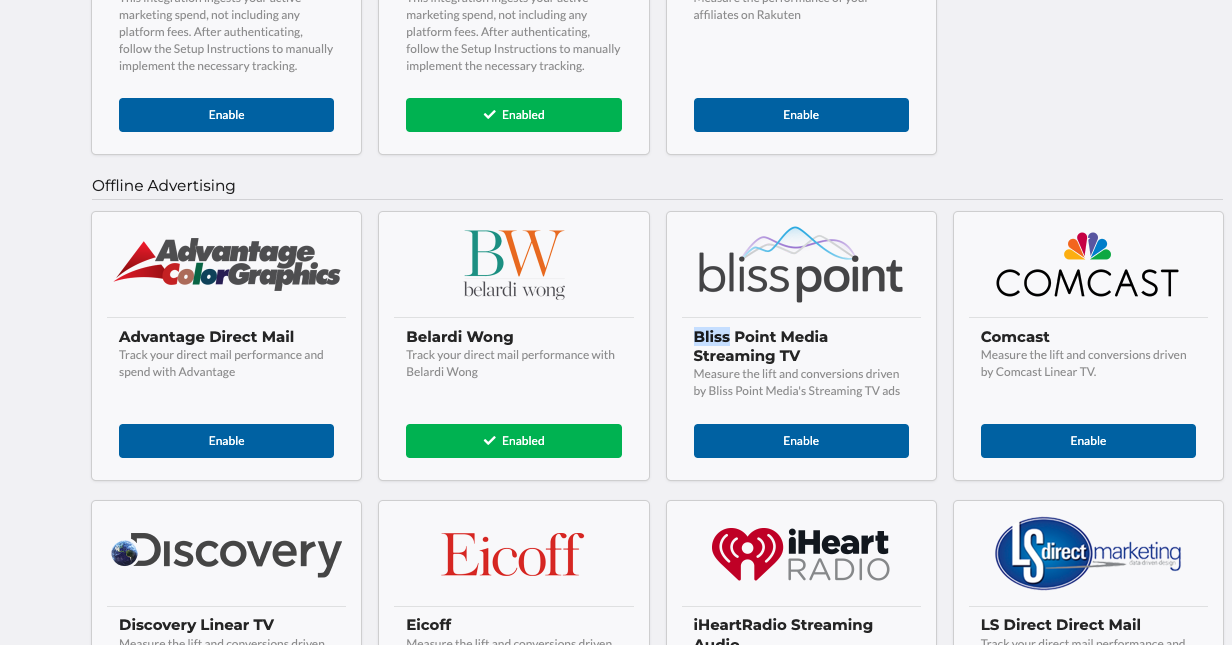 Once the Integration is Enabled you can get your setup instructions from the newly created inbox in the UI. You can find this by going to "Wrench" -> Batch:

Once you get the the Batch spend area you will see a new inbox created for Blisspoint (BPM - OTT Video). Your S3 Bucket setup information will be available there!
Reporting Send * S3 Bucket * Supported File Types: CSV, TSV, XLSX
Required Report Table Fields - OTT
ip
cost
device
isci
length
network
zip
isp
timestamp
os
mediatype
Bliss Point Media Linear
Reach out to your Rockerbox representative to set up an S3 endpoint for BPM Linear log files.
Once you have the S3 endpoint details, reach out to your BPM rep to set up weekly log files with the schema below.
Required Report Table Fields - Linear
spot_time
station_name
program
creative
spot_length
source
prelog
airing
net_rate
---
---